Duties of the students :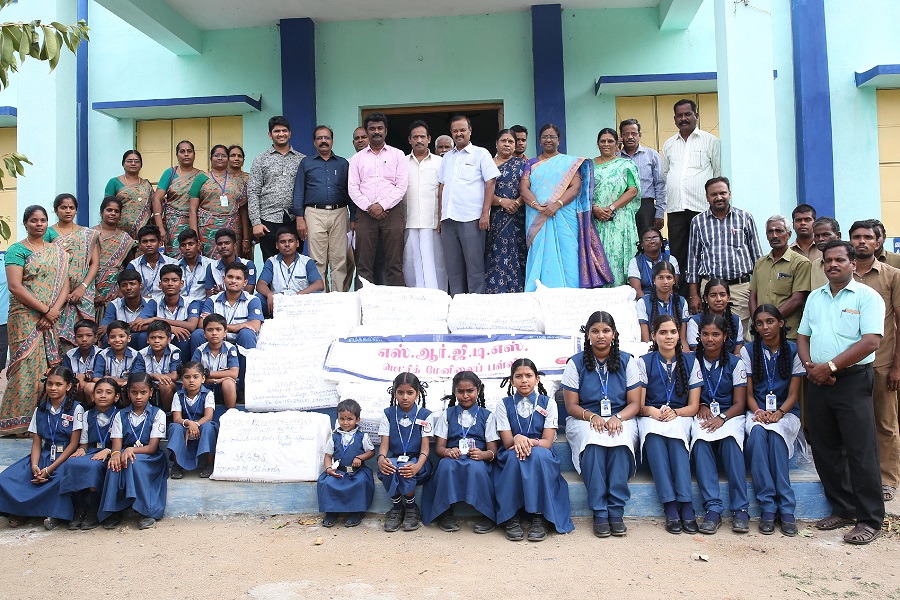 1. Students must be punctual and have to be in the school by 7.30 am and 9.00 am.
2. Every student must bring the diary to the school daily and preserve it with care.
3. Students should take care of the school property, if anything is damaged it should be set right at the expense of the student.
4. Must be regular to school.
5. Students must come in neat uniform, shoes and a clean hanky.
6. Students Must bring their lunch in the morning itself.
7. Must obey the rules and regulation of the school. 6
8. Students are advised not to bring any valuable articles to the school. The school will not be responsible for the loss of pupil's belongings.
9. Students are responsible for their own book, fountain pens, tiffin carriers, gold ornaments or any other articles. While every effort will be made by the school to reduce the loss of such articles, the ultimate responsibility rests with the children themselves.
10. Students suffering from contagious / infectious diseases will not be permitted to attend school.
11. Any serious breach of discipline and above all disrespect and disobedience to the members of the school staff inside or outside the school premises will be treated seriously.
12. Pupils are not allowed to give gifts to teachers.
13. Regular late coming, frequent absence, negligence in wearing uniforms, carelessness in studies will be viewed seriously.
14. Promotion is entirely dependent on his / her attendance and performance in each and every monthly test, midterm and terminal examination.
15. Students are instructed to be clean and tidy in their dress, books and all their belongings.
16. No story books, magazines, walkman, camera, radio, Cell phones etc., should be brought to school.
17. Students are expected to take part in all extracurricular activities of the school and no one will be exempted except for valid reasons.
18. No students will be exempted from physical exercise and games without Medical Certificate.
19. All the students should converse only in English in the school premises to acquire greater skill in the use of the language.
20. The boys should come to school with hair properly cut. No boy with long hair will be allowed to attend the class.
21. Pupils who bring lunch to schools should bring with them spoon and napkin/hand towels/ table mats and should use the same to avoid making the class room dirty.
22. Phone calls among the students and students to the teachers are strictly prohibited.
7
23. In the classroom, Place is allotted to each student by the class Teacher and no students may change it by himself. Likewise no one should move from the classroom without permission.
24. Wish every teacher irrespective of the class handled. Stand up at once, wish a teacher or visitor when they enter and leave the class room. Don't interfere when the teachers are conversing.
25. Be polite while speaking to teachers, elders in general. Use "Please" while requesting and "Thank" while receiving. Maintain silence in absence of the teacher.
26. Talk with whispers in the class rooms and corridors and stop conversing when teachers or other superiors pass by.
27. Read the students hand-book carefully and act on it. Make note in it of important things to you.
28. Use of bad language, unruly behaviour and manners are strictly forbidden. Aim at full attendance and unfailing punctuality.
29. Be God Fearing. A prayer to God for help will always be answered by him. Never waste time. Time is precious. Use it well.
30. Make friendship with studious companions. They will help you by work and example. Work hard and do your best in studies. your parents and the Nation are expecting a lot from you.
31. Take part in games, recreation which will refresh your mind and give you new energy for studies.
32. Students are not allowed to bring the Two-wheelers (Bike, Scooty) to the School.
Sports
Table Tennis
Ball Badminton
Shuttle Badminton
Volley Ball
Foot Ball
Throw Ball
Hand Ball
Basket Ball
Carrom
Chess
Tenni-koit
Kho-kho
Yoga
Traditional Games
(Pallanguzhi,Paramapatham)
Karate
Taekwonda
Silambam